Bus Stop Kit 1 with Photometrix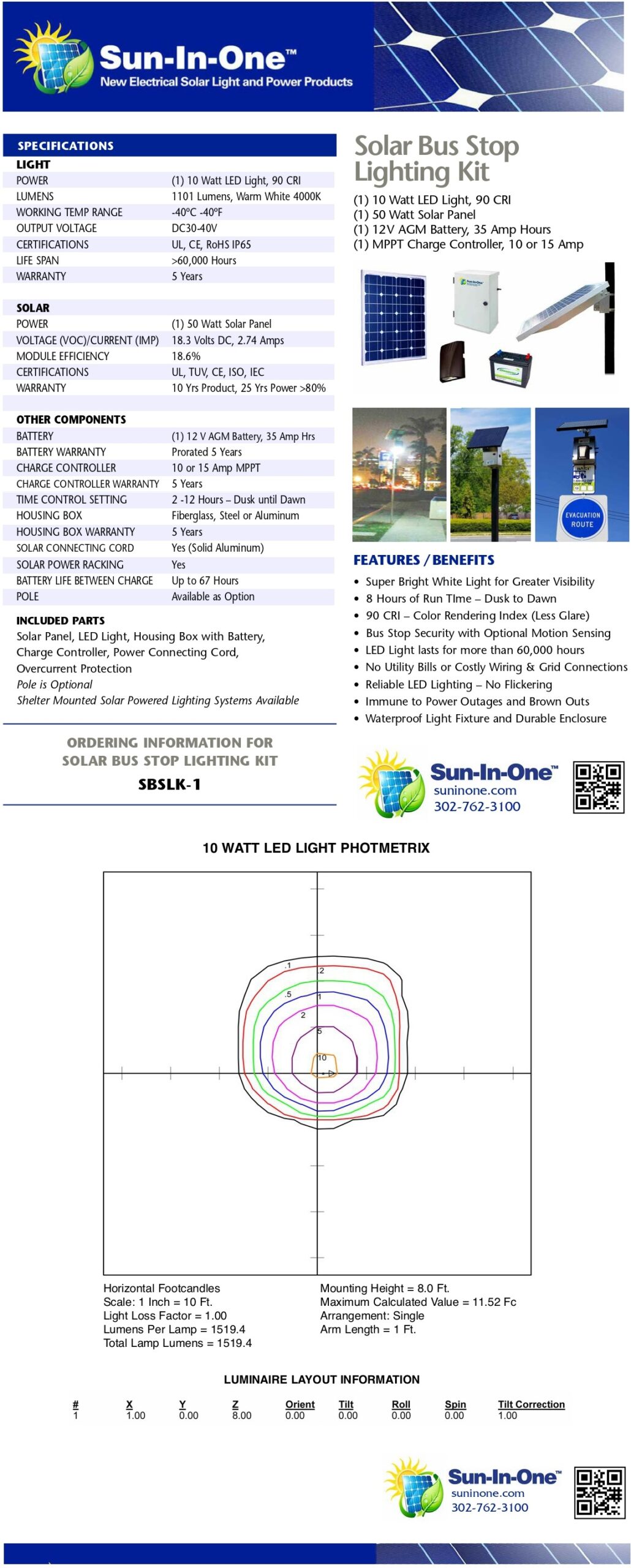 Welcome to the future of bus stop lighting with Bus Stop Kit 1, proudly showcasing the advanced technology of Photometrix Sun-In-One. Our revolutionary kit is designed to transform your bus stop experience, offering a new level of safety, efficiency, and elegance.
Introducing Bus Stop Kit 1: Enlightening Your Commute
At Photometrix Sun-In-One, we believe that every waiting moment matters. That's why we've crafted Bus Stop Kit 1, a cutting-edge solution that doesn't just light up your bus stop; it transforms it into a haven of illumination. Designed to be more than just a source of light, our kit aims to enhance your overall commuting experience.
Efficiency Beyond Expectations
Imagine a lighting solution that thrives independently. Bus Stop Kit 1 harnesses the limitless power of the sun, converting sunlight into an efficient energy source. This means that even during cloudy days or after sunset, your bus stop remains brilliantly lit, providing unwavering safety for waiting passengers. Our solar technology isn't just about reducing your carbon footprint – it's about elevating the functionality of urban infrastructure.
Setting New Standards in Safety
Safety is paramount at bus stops. Bus Stop Kit 1 ensures that passengers feel secure, no matter the time of day. The powerful illumination not only helps in preventing accidents but also deters potential threats. We understand that a well-lit environment can make all the difference, and that's exactly what we offer with our Photometrix Sun-In-One technology.
Aesthetics That Enhance
Bus Stop Kit 1 isn't just about functionality – it's about adding a touch of sophistication to your urban landscape. Our lighting solutions are designed to seamlessly integrate into the aesthetic of modern architecture, enhancing the visual appeal of your bus stop area. Brighten up your cityscape not only for utility but also for the sheer beauty of it.
Installation Made Easy
At Photometrix Sun-In-One, we value your convenience. Bus Stop Kit 1 comes with an installation process that's as seamless as our lighting technology. Our experts ensure that the kit is set up swiftly and efficiently, minimizing disruptions to daily operations. We understand the significance of every minute at a bus stop, and our installation process respects that.
Join the Illumination Revolution
Bus Stop Kit 1 with Photometrix Sun-In-One isn't just a lighting solution – it's an evolution of urban transit spaces. By combining renewable energy, efficiency, safety, and aesthetics, we're ushering in a new era of bus stop lighting. Join us in illuminating the path to a smarter and safer urban future.
Experience the brilliance of Bus Stop Kit 1 with Photometrix Sun-In-One – because waiting for your bus shouldn't mean waiting in the dark.