SOLAR BUS STOP LIGHTING KITS
Why Sun-In-One Solar Bus Shelters?
Sun-In-One™ Solar Power Kits are the perfect solution for bus stop lighting where it is a long distance from electrical lines – and sunlight is available. Optimizes illumination to configure your location's exact needs.
We work with our clients on every Solar System to guarantee the success of each installation. The number one question is, "What direction is the shelter facing – and which direction is south."
Sun-In-One is the only company providing 98 CRI (Color Rating Index) with lighting with less glare and true color clarity for bus drivers to clearly see riders waiting in the bus shelter. Better lighting means better security.
Sun-In-One has built Solar Systems around the world with sytems designed on all 7 continents. Because of this experience, we know to ask the hard questions prior to a purchase and placement.
We configure designs that best fit any unique challenge that may arise in the design and install of Solar Shelters – with up to 3 days of autonomy.
Solar Panels come with a 25-year power warranty including battery. All other components come with a 5-year warranty.
We ship and support our systems all over the world.
Our Boxes Panels and wires are all UL listed. 
It's Time to Take your Bus Shelter to the Next Level with these Options!
•USB Cell Phone Chargers      •Built-in Security Camera for Monitoring
•Built-in WiFi Access    •Energy Motion Sensing for Lighting
SOLAR BUS SHELTER LIGHTING KIT COmpONENTS
Lighting Fixture with 98 CRI LED Light and Vapor-Tight Seal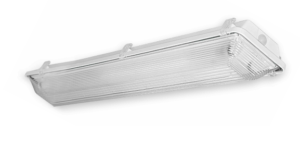 Great for illuminating
bus shelters
of all kinds, as well as canopies, covered walkways, sheds, outbuildings, pavillions, storage areas, carports. Sold as a complete Plug-and-Play system with all necessary components for a typical installation.
Our LED Light is currently the only 98 CRI LED Bus Shelter Light on the market. The CRI (Color Rendering Index) is an industry scale from 0-100%. The higher the CRI, the better the color rendering ability. Light source with a CRI 98 is considered the highest rating..
Luminaire power consumption ranges from 8 to 30 Watts.
Light output is from 1120 to 2100 lumens per bulb and one or two bulbs per fixture.
LEDs are powered with a LED driver and include optional programmable dimming control.
All LEDs are white at approximately 4000K to 6000k color temperature. LED life is typically up to 100,000 hours.
Offered as a 2-feet long or 4-feet long waterproof, vapor tight enclosures.
2-foot light fixture dimensions are approximately 26" x 4" x 3.5" LxWxD. 4-foot light fixture dimensions are approximately 52" x 4" x 3.5" LxWxD.
Vandal-resistant polycarbonate construction.
The lights may be directly screwed or bolted onto a solid surface, or using the supplied mounting brackets
Batteries are engineered and tested to provide reliable, long-lasting power for Photovoltaic (PV) and renewable energy applications where frequent deep cycles are required and minimum maintenance is desirable.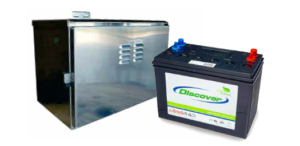 Battery
System supplied comes standard with 12 Volt Battery. If additional Batteries are needed they are wired in parallel to make a 12 Volt system.
Standard battery capacities are 35AH AGM, 55AH AGM, or 85AH AGM. Optionally, 60 AH Lithium Batteries. Higher capacity Batteries available by special order. Our engineers can consult for specific battery capacity requirements per your system configuration and performance requirements.
Classified as Non-spillable (defined by DOT, ICAO and IATA), Non-HAZMAT, and valve regulated.
Conforms to ISO9001, ISO/TS 16949, and ISO14001 standards.
Typical battery life is approximately 5-8 years, subject to environmental factors. Battery Housing
UL Listed Aluminum lockable Battery Enclosure will accommodate the rechargeable Batteries and Charge Controller.
Designed to conform to NEMA 3R and IP22 rating standards for Outdoor Enclosures. Offering protection against rain, snow, and sleet.
Battery Enclosure can be mounted on to the structure or to a pole mount, depending installation preference and Battery capacity.
Battery box has pre-drilled holes to enable secure installation to a horizontal or vertical surface.
Battery Enclosures are UL Listed aluminum box (or stainless steel Special Order).
Battery box is approximately 16″x16″x10″ LxWxD.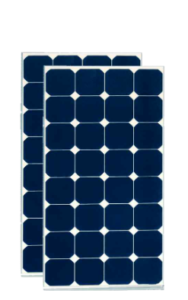 Solar Panels
Our Solar Panels are highly efficient vapor-tight poly-crystalline or mono- crystalline photovoltaic modules with aluminum frame. Panels come with a manufacturer 25-year warranty. Typical solar panel life is over 30 years. Range of Solar Panel power available is 50W to 400W. More powerful panels are available. Our engineers can consult for specific solar power recommendations. Solar Panel power requirements are subject to LED consumption, installation location and preferred illumination period.
Solar Panels come with an anti-reflective and anti-soiling surface that reduces power losses from dirt and dust.
Certified to withstand high wind and snow loads, and resistance to high salt and ammonia.
Manufactured to international standards, verified and certified by independent testing laboratories. (UL, ETL, IEC, CE, ISO, MCS, and TUV). We also have C1D2 panels available. Assembled to strict quality-control international standards by ISO 9001 and ISO 14001.
Approximately 18 feet (5m) of pre-wired connection cable is supplied. Solar Panel extension cables are available upon request.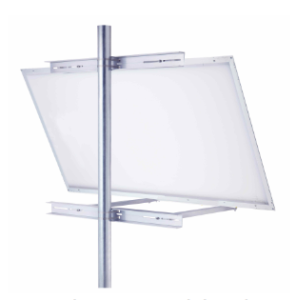 Racking
Racking is based on assuring the Solar Panel at the best angle to the sun to generate the most power with the smallest foot print. We use aluminum Side of Pole racking that mounts to a pole. Top of Pole racking is also available.
We also provide Roof Mount Racking that mounts directly to the calculated angle of the roof. In some instances additional panel(s) may be required for the most-efficient angle. Roof mount racking comes with adjustable back legs to give the system the best angle and support.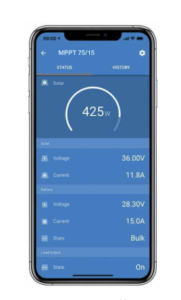 Charge Control System
The MPPT charge controller automatically controls the solar panel power, battery charging and lighting function and operation. Suninone' s MPPT controller improves energy harvest by up to 30% compared to PWM charge controllers. Our MPPT Controller offers Bluetooth Controls as standard and comes with full programmability of load output dusk-to-dawn. Controller allows for programing mode which lets the user define the lighting run time, and comes with integrated diming (all standard features)
MPPT Controller comes with pre-programmed software for load output, dusk-to-dawn lighting single-timed lighting, dual-timed lighting, dimming option and the ability of interfacing with motion detection, where applicable.
Lighting control features come pre-programed for dusk to dawn, or you can choose our 8-hour kits and customize your own hours for on-at-dusk and off-just-before-dawn hours.
Dimming option (must be stated at time of ordering) allows the lighting to dim at any time during illumination. Dimming option can be used in conjunction with motion activation*.
Controller supports real time data monitoring, 30-day performance history, and user programmability from Apple or Android smartphones, tablets, etc. Use of this feature requires the standard MPPT Bluetooth technology. For use with our Free Life Time Total Support – you can send us your data from your phone to help adjust your system to configure it the way you want it to work.
Operating temperature is -22 deg. F (-30 deg. C) to 140 deg. F (+60 deg. C).
* Not preferred as a well-lit structure during all hours of use generates a safer area.
THE SmART BUS SHELTER IS HERE TO STAY!
Smart Bus Shelter Options
Phone Charger
You can now add a 4-Port USB 3.0 Phone Charger as a part of the Solar Power Bus Shelter Kit.
The Phone Charger is housed in a UL outdoor-rated electrical box with USB 4.0 plugs.
Security Camera
Add monitored safety to your Bus Shelters with an unobtrusive Security Camera built into the Light Fixture with a 360-degree fisheye lens. The camera is a 6-mega pixel solid state commer-cial grade system with 256 gigabytes of on-site video storage. The system comes with a Video Management System that can allow you to monitor the bus shelter and count the rides and human traffic at that location. Back Hauling of the video can be done through cell modem, wireless networks or hard wired.
WiFi Hotspot
With today's technology, you can turn your bus shelter into a WiFi Hotspot with Sun-In-One's Solar Power Bus Shelter Kit. The Back Hauling of the connection is the same as the security camera. A Town Hall Portal for the Wi-fi is included so that you can regulate WiFi usage and track any abuses.
Advertising Lighting
You can now also add Advertising Lights that can enable increased revenue and pays for itself! The size and wattage of lighting in the sign drives the sizing of the system. Our engineers can walk you through the process and find out if this option is right for you.
Powering Small Digital Signage
Power Smaller Bus Shelter Digital Signs and schedule boards that will keep riders up to date and increase rider satisfaction.
It's time to take your Bus Shelter and Lighting to the Next Level!
Plug-and-Play Solar Power Kits
Our Plug-and-Play Solar Power Kits are easy to install into bus shelters of any kind, mail shelters, picnic pavilions, canopies, covered walkways, sheds, outbuildings, storage areas, carports, etc.
We determined the best fit for your geographic location, power consumption, LED wattage, and the total amount of hours of illumination time required. All connections are simple and quick.
Installation Notes
The solar panel must be installed in a location where it can receive full direct sunshine from 9am to 3pm or must be modified. Facing South at an 40º angle is best in US and Canada.
The solar panel must not be installed in a shaded or partly shaded location and never in a wooded area. The standard specifications of the system, particularly the Solar Panel wattage and battery capacity, may need to be adjusted before ordering.
For example, a client might request the solar panel to be flat to the roof. In some instances, this could require up to 50% more solar energy to handle the same power needs as at a 45º angle facing south. In this case if it were not flat it would be facing north and need an additional panel. Changes to the standard specifications may increase or decrease cost.
We can help determine the best fit for your exact needs and budget.
Illumination time is estimated and subject to various factors including, but not limited to, shading, geographic location, seasons, temperature and weather conditions. Illumination time of most solar lighting is reduced during winter months when days are shorter. Shorter illumination time does not define the product as being 'defective' or 'not as described'.
All solar lights must be used in a completely dark location at night time otherwise they may not illuminate. Nearby strong lighting sources or ambient lighting may affect the operation of a solar light. This does not define the product as being 'defective' or 'not as described'. We can help you adjust the programing to compensate for this, so let us know if this is the case.
Please note, if you do not install or use this product for several months the battery may discharge naturally on its own. By allowing a battery to deep discharge it may cause irreversible damage as the battery may then lose the ability to recharge or hold a full charge.
Although unlikely, we reserve the right to supply this product with any minor alterations or minor changes to the specifications due to different supplies or product batches received, incorporating such product changes made by the manufacturer, without further notice.